Great rhino calf news from India
02 November 2012

For the first time ever, a calf has been born to a translocated rhino in Manas National Park in Assam, north-east India. It was born at the end of September, but this is the first photograph we've been able to take, as we didn't want to get too close when the calf was first born.
The mother, who's been in Manas since January 2012, is one of 18 rhinos moved there so far as part of the 'Indian Rhino Vision 2020' programme - a joint initiative between WWF, the International Rhino Foundation and India's Assam government, with support from a number of other organisations.
The aim of the programme is to increase Assam's rhino population by moving wild rhinos from other parts of India.
The birth of the calf is a great indication that the translocated rhinos are adapting well to the new environment and are beginning to thrive there.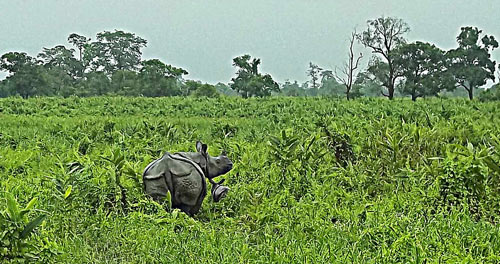 You can...
Find out more about our work to protect the Asian rhino
Adopt a rhino