Drought and flood risks? Government scores badly in new report
07 November 2012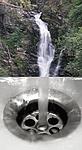 Britain is still at risk of both flooding and water shortages next year because the government has been too slow about changing the way water is managed. That's the conclusion of our new 'scorecard' report, published this week by WWF and 15 other leading environmental organisations.
The only reason Britain avoided a widespread drought this summer, after two dry winters, was because we had our wettest summer ever. Today's new report, from the team behind 2010's original 'Blueprint for Water, warns that despite those recent rains, another series of dry winters would put Britain right back at serious risk of drought.
Our scorecard measures the government's performance against the '10 steps to sustainable water by 2015', which covers everything from flood risk management and pollution to water wastage and pricing.
It's great that the government has committed to tackling issues like the unsustainable abstraction of water from rivers and wetlands (taking out too much water too fast), and acknowledged the importance of more water metering at a fair price. But a lack of actual progress on the ground or in legislation in many areas means the government has failed to score higher than a 'C' grade for anything in our scorecard. In other words, 'could do much better'...
The government needs to back its words with action. We need to see a long-term, sustainable approach that works with our natural water systems. For example, we need to use natural filters like marshes, reeds and moors to regulate water flow and store and clean rainwater, instead of allowing it to run straight into rivers, which increases the risk of flooding.
We can't afford not to fix our broken water system. Lurching between flooding and drought is bad for people, businesses and wildlife.
The challenges are huge – especially with climate change and growing populations – but the government is best-placed to drive the urgent changes we need to protect what is our most precious natural resource.
You can...
See the Blueprint for Water scorecard report in full