Coca-Cola and WWF launch Arctic Home campaign
17 January 2013

We've joined forces with Coca-Cola to launch Arctic Home, a new three-year project to raise awareness and funds to help conserve the home of the polar bear and create a positive future for the Arctic.
The Arctic Home project will combine WWF's extensive scientific network and conservation expertise with Coca-Cola's marketing experience and resources to bring the plight of the polar bear closer to home for millions of consumers.
More than 300 million Coca-Cola packs across Europe will also feature the image of a mother polar bear and her two cubs making their way across the Arctic. As part of this campaign, Coca-Cola is donating €3 million over the next three years towards helping to preserve the bears' Arctic home.
And we want to encourage everyone to donate to the campaign and help us achieve even more – just visit www.arctichome.co.uk.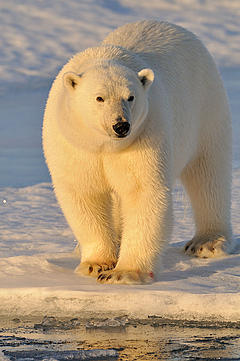 The funds raised by the Arctic Home campaign will help in various ways, including conservation planning for the 'Last Ice Area' - the area where it's believed summer sea ice will last longest in the Arctic. The Arctic is warming twice as fast as the global average and sea ice is disappearing at a rate of about 11% per decade.
As our CEO David Nussbaum says: "Climate warming is causing a rapid melting of the sea ice on which polar bears and other Arctic species depend. It's predicted that the summer sea ice will virtually disappear within a generation. As the ice continues to melt, polar bears will increasingly struggle to hunt to keep themselves and their cubs alive over the summer months.
"The Arctic Home campaign with Coca-Cola is great news as it gives us a real opportunity to raise mass awareness about the threats to the Arctic and vital funds to help us tackle some of the challenges being faced. It's only through working in partnership that sustainable change will take place: we believe that if we all act now, together we can protect the home of the Arctic polar bear."
How the funds raised by Arctic Home will be used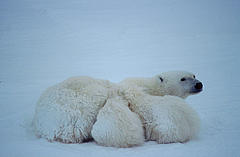 Creating a safe home for polar bears - the polar bear lives, hunts, mates and breeds on sea ice, but that ice is shrinking rapidly due to climate change. The Arctic Home funds will help WWF's work to protect what's still there.
Studying the bears - because of the challenges of the Arctic environment it's difficult and expensive even to find out exactly how many bears are left. Part of the money raised by Arctic Home will be used to fill in the gaps, and help us better understand and study the polar bear's home and habits.
Reducing conflict between bears and people - as the ice retreats, polar bears are being forced to spend more time on land hunting for food – which is dangerous for local people and the bears. Arctic Home funds will assist WWF's research and actions to help communities live in harmony with the polar bear population.
Polar bear summit - WWF is encouraging Arctic governments to hold a polar bear summit this year, which would be supported by funds from the Arctic Home campaign, to put a spotlight on the polar bear and the issues it faces.
Tackling climate change - WWF already works with communities, businesses, governments and international organisations (like the UN and EU) to help cut greenhouse gas emissions by reducing deforestation, making more efficient use of energy, and by moving to clean, renewable sources of energy.
But even if we reduce greenhouse gas emissions very quickly, some climate change will continue in coming decades because of the greenhouse gases we've already emitted. Part of the Arctic Home funds will support WWF's goal of slowing change in the Arctic (and globally), and help people and wildlife there adapt to their changing world.
You can...