Newborn rhino already an orphan – this is why we do what we do
09 April 2013

It's barely two weeks since we were all celebrating the birth of two rare rhino calves in Assam in north-east India. Now one of the two mothers is dead. Slaughtered for her horn and claws. And her bewildered calf is struggling to survive without her.
We helped rescue the traumatised and dehydrated orphan after its mother's body was found. But young rhinos are very dependent on their mothers, and its survival, and rehabilitation, can't be guaranteed.
It's a horrific sign of how bad things are right now for rhinos. This latest killing happened in a protected area, in Manas National Park. Ironically it's where 18 rhinos have been relocated in recent years because poaching threatened to wipe them out elsewhere.
But now the increasingly devious and ruthless poachers have managed to get at the rhinos here too. Four of the 18 relocated rhinos have been killed – part of a shocking upsurge in poaching in this part of India.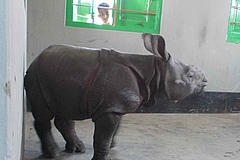 The recent birth of the two calves was a great sign that the translocated rhinos were adapting well to their new home and could start another population. The poachers are trying to destroy that hope.
We're determined not to let these compassionless criminals win. We need to use our sense of outrage – with your crucial backing and support – to make sure local and international authorities step up protection for vulnerable wildlife everywhere. And strengthen sanctions against the terrible trade that kills precious species like the rhino.
You can…