Rare wildlife caught on camera: red pandas, blue-eared pheasants, and more!
22 May 2013

These rare images taken in remote habitats in China show the dazzling array of species found in central-western China, where the giant panda lives alongside many other species including the red panda, Tibetan stump-tailed macaque, golden pheasant and leopard cat.
The landscapes in the Sichuan Province are incredibly rich in wildlife. China itself is one of the 12 globally recognised 'mega-biodiversity' countries where the number of species, as a whole, make up about one tenth of the total number of species of the world. But some of China's most important species including, Amur tigers, musk deer and the Yangtze finless porpoise, have undergone a marked decline that was particularly severe between the 1960s and 1980s. John Barker, head of China and India programmes at WWF-UK said: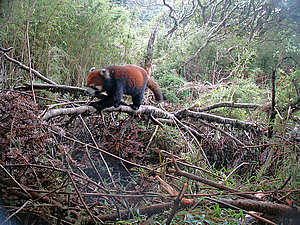 "China's growing economy is leading to more roads, more railways, and more dams - and this ultimately means more impact on wildlife habitats. Maintaining the integrity and connections between these habitats and landscapes is vital if we are to retain ecologically rich places with diverse wildlife, like that of Sichuan in China."
Camera trap images are important for learning about how species interact with their environment and for understanding the impact of human activities in the area. Through this visual research we learn how to better manage these habitats so that both people and nature thrive. See more stunning camera trap images of wildlife in the Mara.