MPs to vote on future of Britain's energy sector
31 May 2013
This coming Tuesday MPs are due to vote on an amendment to the Energy Bill that would commit the UK a near carbon-free power sector by 2030. The amendment was introduced by Tim Yeo MP and Barry Gardiner MP and backed by an alliance of organisations from across the public and private who earlier this year called for MPs to approve the changes.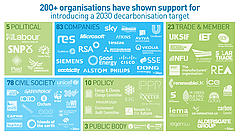 The Energy Bill itself is crucial. It will shape the energy sector in the UK for the next 30 years and determine how the UK contributes to emission reductions on a global scale. We hope MPs will be ambitious on Tuesday and vote in favour of a decarbonisation target that addresses the needs of the future and the challenges brought by climate change.
Moving our power sector away from fossil fuels onto sources of energy that are cleaner and more economically beneficial in the long term is, as the government's own advisors said, a "no regrets" policy. Last year our report found that 70,000 more full-time equivalent jobs would be created if we shifted away from gas and onto offshore wind by 2030. It also found that by investing more in offshore wind, the UK would save £8bn a year on gas imports – that works out at £91 in savings for every household in the UK.

Nick Molho, head of climate and energy policy at WWF-UK, said "A positive vote would send a strong signal to investors that the renewable sector is the way forward: a stable investment that is both good for the environment and supportive of an economy fit for the future. Continuing to rely on fossil fuels simply cannot be the answer."
Read more about the need for decarbonisation in Nick Molho's blog on Huffington Post.
The vote will take place next Tuesday. Join the conversation on Twitter with #vote4cleanpower.