Sir David Attenborough opens the Living Planet Centre
04 November 2013

David Attenborough visited the Living Planet Centre on Friday 1 November and officially opened our inspirational new home. Soon, we'll be welcoming visitors of all ages into the eco building to witness the WWF experience and gain an insight into our work in the natural world.
WWF-UK's new Living Planet Centre was officially opened by Sir David Attenborough last Friday.
The Living Planet Centre in Woking, has the highest 'green' building credentials and features an innovative "WWF Experience" and Learning Zone where visitors and schoolchildren can discover more about WWF's global conservation work.
"It's a fantastic eco-building that shows not only how it's possible to use our planet's resources wisely, but also helps us all connect with the natural world and brings WWF's vital work around the globe to life for us, right here and now," said Sir David.
"As WWF's new home, the Living Planet Centre allows us to open our doors and invite visitors of all ages in for the first time ever," said David Nussbaum, CEO of WWF-UK. "I think this will help people really connect with our place in the natural world, and the vital conservation work they help us to fund. But our passion for nature has to be matched by a commitment to use the planet's resources sustainably, and we can now practise what we preach from a building that shows what can be achieved when we are determined. That's vital as we focus on making real impact in our work – we want a world with a future where people and nature thrive, and we've got big ambitions."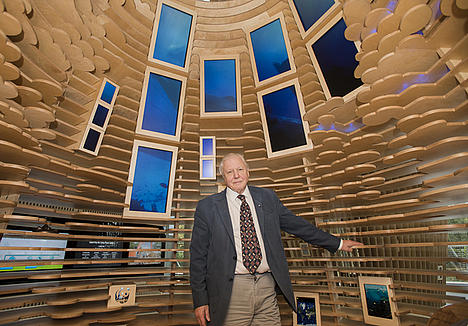 David Attenborough explores the Ocean Zone of the WWF Experience.
Sir David Attenborough planting a tree at the Living Planet Centre with WWF-UK Chair Ed Smith & CEO David Nussbaum.